This weekend I played two shows with Alban Bailly and Joe Moffett in Hartford and Brooklyn. We're hoping to do some more shows in the summer, maybe more than two next time. This week we were celebrating the release of our new album,
Strange Falls
, which was released on Eh? Records. I just updated the Discography/Record Store section if you're interested in checking it out.
Here's the cover, done by the great Hans Rickheit: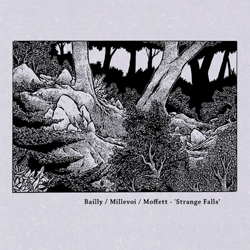 Last week, Ed Ricart and I led a session with Ches Smith and Travis Laplante. We recorded with Jason Lafarge at Seizure's Palace in Brooklyn and we're really happy with the results. Ed and I have worked together in a bunch of other capacities (touring, sharing bills, doing some improvising, Ed released
Black Figure of a Bird
) and the idea for this recording came up while on tour together as a way for us to collaborate. If you haven't checked out his band, Hyrrokkin, you can check them out on Facebook here, they are a power trio that really brings it:
My new solo album is being mastered by Colin Marston this month and it will be released on tape by Flenser Records. I'm still working on plans for a vinyl release.
Many Arms tour dates are up now in the upcoming shows section. Looking at all these dates is getting me really pumped. It's been over a year and a half since our last proper show so we've decided to really go for it this time. Getting psyched!